Fabulousity: Kristin Scott Thomas
When it comes to the blogosphere's deification of iconic actresses, I'm a total lightweight. The grand vizier of actress worship,
Stinkylulu
, has championed women in film, TV and theatre for years;
The Film Experience
has even built his own idiosyncratic vocabulary around the subject (The Bening, La Pfeiffer, etc.). But despite my vastly inferior ability, I have to jump into the deep end, and pledge my unswerving love to an unsung heroine of the (sub)genre. For although I love Streep, Winslet, Close, Bassett, and many others, I now pledge my love and fidelity, now and forever, to the undisputed queen of 2008...
Kristin Scott Thomas
.
Although I'd noticed Thomas in early-career turns (
Under The Cherry Moon
,
Richard III
), I, like many other fans, fell madly in love with her in
Anthony Minghella
's
The English Patient
. As the conflicted adulteress Katharine Clifton, Thomas evoked old-Hollywood glamour while brutally breaking her own heart. The performance garnered Thomas her only Oscar nomination to date, an all-too-shocking crime when one looks at the contours of her career -- thankless support for an entire ensemble in
Gosford Park
, dramatic verve in
Angels and Insects
, better-than-the-material work in
Up at the Villa
and
Random Hearts
.
In 2008, Thomas has delivered a trio of triumphs to American audiences that, if there is a benevolent deity hovering above us, should earn her widespread adoration. The first is
Ne le dis à personne (
Tell No One)
,
Guillaume Canet
's sublime French thriller from 2006 that only this summer enjoyed a domestic release. It's easily one of the best films of the year, and among its charms is Thomas, playing the lesbian friend of the mysterious widower at the center of the plot. In suprising scene after surprising scene, Thomas refuses to diminish the complexity of her supporting role, mining the text for every rich vein of meaning. And did I mention that she speaks fluent French?
Her French linguistic skills are again on display in this year's Oscar bait,
Il y a longtemps que je t'aime (I've Loved You So Long)
. Here, Thomas has the leading role in a slowly-unraveling mystery; she plays Juliette Fontaine, a recent-released prisoner whose crime was apparently heinous enough to freak out her family, friends and acquaintances. But watching this sublime actress integrate her character back into society, utilizing a minimum of text and a slow-burn intensity, is one of the more exhilarating experiences to be had in a cinema this year. After 12 years, it's time for that second Oscar nomination.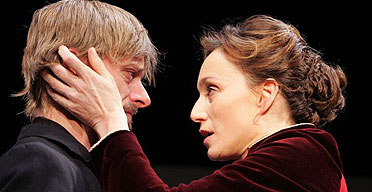 If this double-header wasn't enough, New Yorkers can now see Thomas in the flesh; she's brought her acclaimed West End revival of
The Seagull
to Broadway for a limited run. The production, to be completely honest, isn't extraordinary...director
Ian Rickson
(who will soon lead
Mary-Louise Parker
through her paces as
Hedda Gabler
) has stripped the complexity out of Chekhov's nuanced masterpiece, making Ibsen's play feel less like a banquet and more like drama-for-dummies. But Thomas, as the vainglorious aging actress Madame Arkadina, shines through the bleakness surrounding her. Rarely, if ever, has Arkadina's fragile self-image been more delicately constructed;
Dianne Wiest
attempted the same role Off-Broadway last spring, with far less successful results. After a seemingly endless string of failed Broadway debuts in recent seasons -- including bad reviews for
Julia Roberts
,
Frances McDormand
,
Morgan Freeman
,
Katie Holmes
, and more -- it's magical to see a success like Kristin's. That sound you hear is me, heaving a contented sigh like a schoolboy with a crush on the most talented girl in the school.
With six films in the can waiting for release next year (and three more months of performances on Broadway), Kristin Scott Thomas isn't disappearing anytime soon. Which for me, now and forever her publicly adoring gay loveslave, is the best news of all.
Labels: FabStuff, Movies, Stage Addiction