Blog-A-Thon: Write To Marry
On August 10, 1992, I went on a blind date to meet the man of my dreams. We had talked only briefly once before, on the phone, setting up the date for Mr. Henry's, a semi-notorious saloon that used to have a branch in the
Adams-Morgan
neighborhood of Washington, D.C. I was nervous...he arrived a little late, and I thought he'd stand me up. But instead he brought red roses, a gorgeous smile, and eyes so deep and open they made me gasp out loud. I could barely speak, but I managed to flirt back when he did, and opened up when revealed the personal sides of his life. After dinner we wandered down to a movie (
Single White Female
), he walked me home, and we shared a fragile, timid good night kiss.
And my life changed.
Thirteen years later, on August 14, 2005, Mr. ModFab and I got married at the
Society for Ethical Culture
on Central Park West. It wasn't legal; it was here, in New York City, where the law doesn't allow for equal protection. But it wasn't for that, or for the guests, or to make a statement...it was for us, me and him. We hadn't ever celebrated ourselves in this way, and I personally wanted him to know, beyond a shadow of a doubt, how much he'd come to mean to me. On that day, we gathered about fifty of our friends, many of whom helped with the catering, flowers and decorations. My best friend made matching shiny-gold nehru jackets from a gorgeous oriental pattern (fabulous!).
Damion
,
Nick
,
Melissa
and
Mary Ann
read poems, and Mr. ModFab (who is a professional classical singer) performed duets with his cherished friends. My sister gave me away; his mother did the same for him. At the end, we jumped a broom made by my aging father, a woodcarver, which still hangs on the wall of my living room. We all got a little drunk. We had a day and a memory that I hope everyone in the world will someday get to have.
You can decide for yourself whether my marriage has any meaning for you or not, and how you feel about it morally...that's your right, as an American. You can decide that the rite of marriage should only be between a man and woman, because that's the way it's been since, well, a long time and things should never, never change and grow. You can imagine that my love isn't the same as yours, that my faith is different from yours, that the houses of religion should bolt the door when they see me coming. You can judge me and my husband, and you can hate us the way homosexuals have been hated for a thousand years. (For that's all this debate is about, in the end...how much you hate us.)
Let me speak for all LGBT people and say...whatever.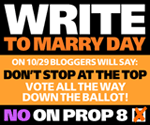 But what you CANNOT continue to do is deny the LEGAL protections that every American deserves. Especially if you believe that America should be the land of the free, that all men are created equal, that we all have a right (protected in the Constitution) to pursue happiness. You want to deny me morally, fine. You cannot deny me legally any more. Period.
And if you live in California, you will have an opportunity next Tuesday to do the right thing.
You will vote to ban equality, or to protect it
. You will have a Proposition on your election ballot,
#8
, that is based in fear, ignorance, hatred, and bias. You have the opportunity to change the world for the better.
I encourage you, as a happily married man and a believer not in gay rights but in fairness, to do the right thing.
Vote No On 8
.
Read More Bloggers:
Write To Marry Blog-A-Thon