Madeline Kahn Appreciation Day: Beyond Lili Von Shtupp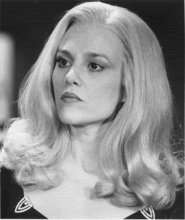 In preparing for
Madeline Kahn Appreciation Day
(hosted today, with glitz and verve, by
Stinkylulu
), I took a audiovisual tour around the avalanche of Kahn's career highlights that can be found now over at You Tube. Up until that point, I had fully expected to write about my favorite cinematic performances by the late, great comedienne. (For the record, they are all included inside the
Mel Brooks
trifecta:
Blazing Saddles
,
History of the World: Part I
, and
Young Frankenstein
.)
But those choices, while classic, are a bit obvious. So what a thrill to find the gold mine of You Tube, where there are some truly remarkable hidden gems featuring Kahn, easily accessible for all to enjoy. So now you'll find below five of my new
Madeline Kahn
favorites. Why speak for her, when she can (thankfully) still speak for herself?
The Sisters Rosenszweig
Kahn's Broadway triumph never made it to the silver screen, but this "reading" clip from a Tony telecast captures a fragment of Gorgeous' genius.
Mrs. White's Confession from
Clue
Why is this so damn funny? Because Kahn is a master...no one ever got more out of a line than she does here.

Trixie Delight
This monologue, from
Paper Moon
, hints at the masterful actress Kahn was behind the humor.

With Grover, on

Sesame Street



Sweet, gentle, and understated. Kahn here is funny, of course, but it's a far cry from her bawdier, career-making roles. I love this.
Getting Married Today
With chops that best most of the comic leads on Broadway today, Kahn massages Sondheim's classic cold-feet aria with every Borscht Belt trick in her arsenal. Perfect.