I'd Like To Thank The (Really Gay) Academy...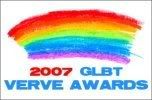 We love everything about awards: the little gold statues, the drunken acceptances speeches, the Debbie Allen interpretive dance numbers. But we especially love being nominated --
Queer Verve
has announced the
2007 GLBT Verve Awards Nominees
, and
Modern Fabulousity
is nominated for
Best Arts and Culture Blog
! Woo hoody hoo hoo!
,
We're up against some formidable competition, including
Fantastics Mag
,
Gayya Kuyusu
, and
LemonWade
. So I am officially offering sexual favors in exchange for votes until the ballots close on December 17. That's right:
vote for me today
, and you can have wild, passionate sex...with
Andy Towle
. (What, you thought it'd be me? I'm a married man, fer chrissake. And Andy's a mensch, so I'm sure he'll help a brother out.)
In all seriousness:
please vote
. Free handjobs. From
Perez Hilton
. No kidding. And while you're there, pull the knob for our fellow nominees (and buddies)
Four Four
,
PopBytes
,
Towleroad
,
Scott-O-Rama
,
Jockohomo
,
Beautiful
,
Completely Naked
,
London Calling Luv
,
Hunk du Jour
,
American Urge
, and
Someone in a Tree
.
Labels: Blogs, Contests, ModFab News