Monday Dandies
Greetings, darlings, StinkyLulu here (as long as ModFab is there).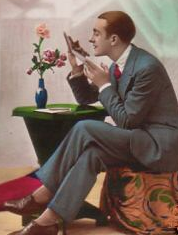 'Tis MONDAY
- normally, an occasion for some
ManScan
ning (which may yet happen) - and StinkyLu's definitely feeling the Mondayness of it all. But just now, on my jaunt to get my morning sustenance, I encountered a lovely damsel. I asked how she was. She sparkled back with startling sincerity: "Dandy!" And I thought: "Well, I'm not feeling at all dandy, but that's a worthy goal if ever I've heard one." So, lovely ModFab reader, I've elected to share some recent links that make me feel just a little more dandy. May they do the same for you...
Have a dandy Monday, dear ones!
Labels: Links