StinkyLulu's Hope for the 60th Annual Tony Awards
StinkyLulu's been watching the
Tony Awards broadcast
religiously for nigh on 25 years. And ever since the announcement of this year's theme ("60th Annual Celebration of Excellence on Broadway"), Lulu's been crossing relevant digits that the broadcast's producers might revive one of the greatest Tony Award set-pieces ever: the 1986 tribute to "40 Years of Tony Award Winning Plays."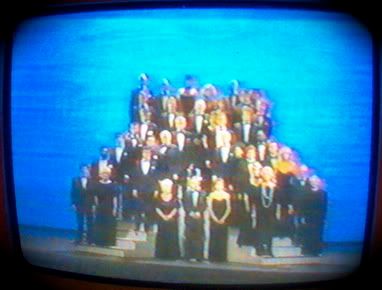 The broadcast's producers assembled upwards of 30 actors to read one line from each of 39 plays awarded the "Best Play" Tony Award since 1946. (The 40th recipient was announced immediately following.) Some actors delivered the very lines they spoke in the original production – starting at the beginning with Jose Ferrer in
Cyrano de Bergerac
(1947-not sure how this counted but hey), moving on to Maureen Stapleton in
The Rose Tattoo
(1951), carrying all the way to Matthew Broderick in
Biloxi Blues
(1985). Other actors offered electrifying new interpretations – theatrical magic in miniature – like Colleen Dewhurst's reading of the "She Knows!" line from
The Miracle Worker
(1960)
But of course, in the best teevee variety show tradition, other moments lapsed – in a genius way – toward the absurd: Stefanie Powers doing a line from
The Cocktail Hour
, Marlo Thomas doing a bit from
Who's Afraid of Virginia Woolf
, and Lulu's favorite of all -- Sandy Duncan delivering the signature line from the 1956 Best Play:
"In spite of everything, I still believe that people are really good at heart."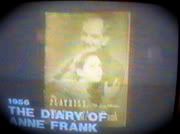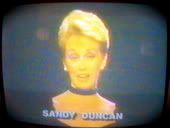 Sandy Duncan. As Anne Frank. Only on the Tony Awards.

Hopefully, the producers trot out something just as brainsprainingly fabulous for Tony's 60th.